What is the cost of dropped handoffs in your AV integration business?
In my experience managing projects — and in working with companies that are also attempting to manage projects — a key determinant of success or failure is the handoff between organizational roles and functions. In small companies, where each person is performing multiple functions, there are fewer handoffs, and less need for extensive and thorough communication and the building of "common sense" across a larger group of people.
Employees at a small company also have the chance to conduct many conversations with one another. They get a good understanding of what's being communicated. This luxury tends to get lost as a company grows, even as cross-functional communication becomes more of a necessity. Such handoffs — of information, responsibilities, client relationships, etc. — can actually be a curse if not handled well.
The chart below represents a project lifecycle. There are five to seven visible roles, and several critically important roles not shown (procurement, finance, coordinator/administrator, etc.)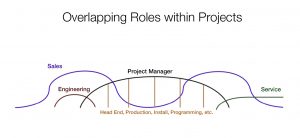 Each of these roles has specific informational needs in order to perform their functions effectively and efficiently:
Sales should understand the purpose behind the client's request, their measures of success, and a functional description of what the client would like to achieve. They need to provide this context to the sales or design engineer to make the most applicable design.

Engineering

and sales must communicate throughout the design process, ultimately providing the client a solution that adds value, while also giving the project manager and technicians a design that is executable and a drawing that is complete, including up-to-date equipment and parts.

Project management

must receive pertinent client information from sales and put it quickly to use. Inform the client of receipt of the purchase order and the project's initiation, plus a rough milestone schedule and next steps. They also need to understand any complexities within the engineering design and have a good idea of how that design will fulfill the client's purpose.
The technicians — even more than the project manager —need to understand any complexities within the engineering design. They also need to know where they're going, who they need to talk to, and whether all of the equipment and materials are at the job site or not. They also need to know the condition of the job site in terms of readiness for installation.
Depending on the organization, there may be several handoffs within the

installation

function (head-end, production, install, programming, training, commissioning, etc.). These handoffs ultimately should be managed by the project manager or coordinator, again depending on the organization and size of the project.
The project manager and sales must collaborate and coordinate on any

change requests

that arise throughout the project lifecycle — the project manager handles cost, sales communicates price. There is often a conflict, or gap in communication, between sales and project management. This conflict is often viewed as a power struggle ("Who's in charge?"). It should be thought of in terms of who is playing a primary role versus a supporting role — neither more important than the other, but both incredibly valuable in maintaining long-term client relationships and organizational profitability.
When it comes to

commissioning,

both

service

and sales need to be brought up to speed on correct drawings and any outstanding items that could ultimately reflect poorly on the organization.
Project managers and technicians need to close the loop with sales and engineering to highlight assumptions that must be updated, any variance between project actuals and estimates, and whether future project estimates should be modified based on the knowledge gained in this project.
Does your organization see each of these handoffs as critical to the success of the project and the organization? Or does it view them as areas of finger-pointing and blame?
When information is shared between roles, is it based on what the receiver needs? Or is it based on what the sender thinks is the minimum he needs to provide because he needs to do more important things with his time?
When the early handoffs are dropped or fumbled, there is no remedy. Just chaotic, reactive firefighting, which makes for a costly and morale-sapping situation.